REPORT OF 2020 VISIT'S TO MODUPE COLE MEMORIAL CHILD CARE & TREATMENT HOME SCHOOL
THEME: DONATION OF FOOD-STUFFS TO THE HOME
Do The Dream Youth Development Initiative held the end of the year event on the 15th December 2020 via the presentation of Foodstuffs to the school named above. The event was the brainchild of Adebusuyi Olutayo Olumadewa, the founder of the Organization. Eminent personalities and Dignitaries were fully present at the well-received event.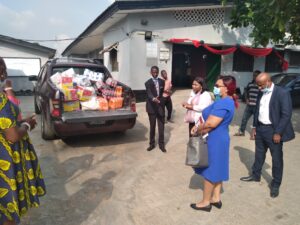 The special guest of honour was the presiding Councillor of Navan Meath County, in the Republic of Ireland, Cllr. Yemi Adenuga (also known as Energy-In-Motion). Cllr. Yemi Adenuga is also the First Black Elected Official in Ireland and one of the most influential Black women in Ireland. The Executive Directors of the Organisation, Mr Peter Oshinoiki, Mrs Badejoko Fabamise and Mr Bisi Salau were also in attendance.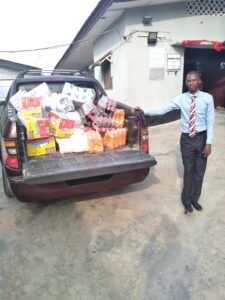 Mr & Mrs Elesin, the most sought-after Systems Engineer in Africa, Marriage-Mindset Counsellor and The Founder of Character Academy and The Complete Family, graced the occasion with their presence. They urged leaders in the education sector to make education more relevant to modern times.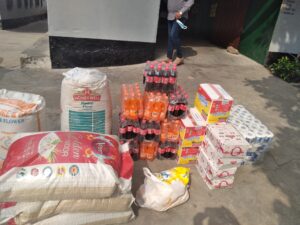 Mrs Sola Somoye, Director for Child Care and Counseling, at The Ministry of Education, welcomed the Team. Mrs Tejuosho, the school's headteacher, was also in attendance. She gave the Team a tour around the schools and received the gift on behalf of The Lagos State Government.
We will like to specially thank those who showed support and contributed to the success of this event
Mr Sope Aromire, Mrs Oyeleye,Mr Yemi Adekanye,Mr dolapo Ologunde, Mr Bosipo Solanke,Joyce Chukwudi,
Dr Toki Birch,Wole Oyeleye. Mr & Mrs Elesin.
We look forward to working with you in the coming years, so that we can expand on the great work we are doing at DTD
Finally, she thanked Do The Dream for putting together a great event worthy of public commendation and recognition.
The Team proceeded to Education District VI, at Oshodi, to celebrate annual Christmas Carol Service with Ministry of Education, Education District VI, Lagos State. The Tutor General/Permanent Secretary, Mrs Oludara Okelola, gave the Team laudable welcome. She also welcomed the idea of collaboration between Do The Dream Youth Development Initiative, Sheroes Global, Character Academy on GirlsAreAsset Programme, HeForShe and The Yemi Adenuga Mentorship Programme.