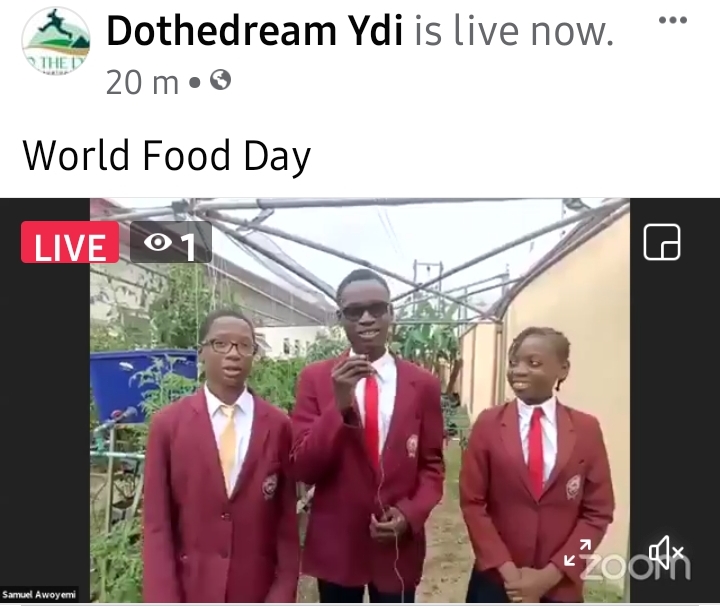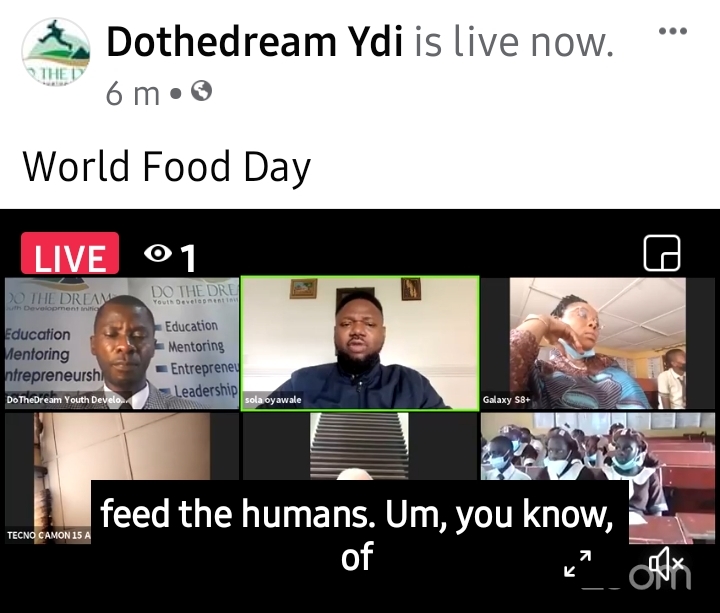 REPORT OF WORLD FOOD DAY    DAY II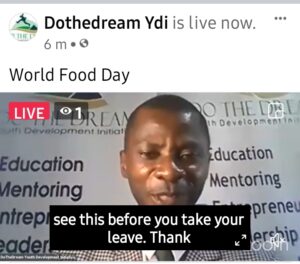 World Food Day 2021 in collaboration with Africa Role, Lagos State Ministry of Education, Food and Agriculture Organization of United Nation was a success.
The Event design to inspire Food Systems role among young people, organization towards seeing Agriculture as the dream that create unique opportunities to become asset worth emulating leveraging on Agriculture. Africa Role is a brand that inspires Africa leadership, Africans in Diaspora in maximizing their role towards creating opportunities in Education, Economy, Energy and Environment for youths towards having greater Africa.The collaboration which demonstrates economy, education and environment in building Food systems. The Event has eminent speakers namely Shola Oyawale –Agrictech Expert , Director General Food and Agriculture Organization Of the United Nations Mr Dongu Yu ably represented by Fred Kafeero, Ron Tan ( an agriculturist from Singapore) Toyin Aromire and Adebusuyi Olutayo Olumadewa
The Event which started with a lessons on Food system by Adebusuyi Olumadewa followed by Oyawale Speech.A keynote Presentation by Mr Dongyu – FAO Director ably represented by Mr Fred Kafeero the FAO Nigeria Representative.
The Founder of DoTheDream Youth Development Initiative, Adebusuyi Olumadewa opening message on the importance of Food System adoption by young people creates huge expectation towards playing a key role in Value chains that enhance growth and development.
Mr Sola Oyawale, Agrictech expert presentation encourages the organizers to proceed in the exploit towards creating the environment that works.
Creative Displays by Students of Caleb Secondary schools and live presentation from Lagos State Governments secondary schools where young people presented live from the school farms inspire the Leadership of Food and Agriculture Organizations of United Nations on promoting the culture on empowering young people to see Agriculture as the next big thing for profitability and sustainability.
The Keynote Presentation by the Director General of Food And Agriculture of United Nations ably represented by Mr Fred Kafeero- FAO Nigeria was the needed lessons for reigning in creating environments that works more learning on agrictech as well as the value systems that inspire young people participation in Agriculture
  The Final Presentation was from Singaporean Agriculturist Ron Tan.

We are observing World Food Day with our Partner  Africa Role.  "Africa Role" is a brand that inspires Africa leadership, Africans in diaspora in maximizing their role towards creating opportunities in Education, Economy, Energy and Environment for greater Africa.
WHAT WE WANT TO DO
Interest is a Living thing. A decision made thousand times ahead can only be sustained with interest.
Create Interest
Build Interest
Share Interest
Model Interest
Demonstrate Interest
WHAT WE WANT TO DO II: GIVE WINGS TO THE YOUTHS TO DREAM / DELIVER / DO AGRICULTURE
The Beautiful Question is how to inspire young people to use their eyes, nose, mouth, ear and Heart& hands to connect with environments in seeing agriculture as the Diamond that inspire FIT for Purpose.
How can we encourage participation of the five senses in Transforming Food Systems towards Innovations?
How can we connect disconnection of past to the present and future towards allowing young people see Agriculture, chains of it as a woke lessons and trainings for reigning..
AGRICULTURE
DYNAMISM OF NUMBERS: We must embrace dynamism of the numbers and the power behind 1- 10 towards depicting process flow in Agriculture. The Foundation starts from 0-10 which stimulates every act.
KAIZEN WAY: We herald improve way of communicating with heroic strides in Agriculture to knowledge towards encouraging youth's global participation
CREATIVE DISPLAY: We must create a scheme that creates path of exploration for young ones in agriculture so as to explore their world more beyond their environment in seeing themselves as the mentor worth emulating.
We are observing it on the 20th & 21st October 2021