NUMBER OF STUDENTS IMPACTED
NUMBER OF TEACHERS IMPACTED
DoTheDream Youth Development Initiative (YDI) is a nongovernmental, nonreligious organization that focuses on using both formal and informal education as a creative tool for developing and empowering youths toward promoting positive change in society. Since inception,  over twenty-nine thousand six hundred (29,600) students have been impacted by our several initiatives. We continue to progress on our mission of helping youths find their voice  and create a platform for the voices to serve humanity.' According to UNESCO, International Literacy Day (ILD) 2023, which is September 8, is an opportunity to join efforts to accelerate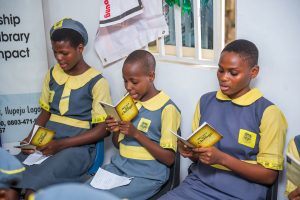 progress towards the achievement of Sustainable Development Goal 4 (SDG4) on education and lifelong learning and to reflect on the role of literacy in building more inclusive, peaceful, just, and sustainable societies. Literacy plays a pivotal role in the SDG spectrum centered around the five (5) pillars of sustainable development, namely: 'People' (social development),' 'Planet' (environmental protection),' 'Prosperity' (economic prosperity),' as well as 'Peace,' and 'Partnership.
Our Goals for ILD2023 Raise awareness of literacy using EduTech (use of computers, computer programs, or online learning systems) as a means to close the gaps in traditional methods of learning and prepare students for the digital world of work.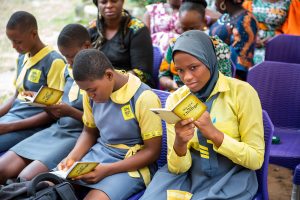 Instigate a reading culture in students by getting industrious leaders to share insights on reading for pleasure and to develop cognitive and critical thinking skills.
It is in collaboration with the Lagos State Ministry of Basic Education, whose vision towards improving literacy levels in the state aligns with the DoTheDream YDI.
The event started with the National Anthem of the Federal Republic of Nigeria. The opening speech by the School Principal, Mr Alade Olajode, was said to encourage others to collaborate with Governments. At the same time, the Why We Are Here was presented by Mr Adebusuyi Olutayo Olumadewa – Founder & CEO of DoTheDream YDI. He emphasized the Vision of the Organisation, which is to Build Voices as the center of the organization is committed to leveraging on the SDGs.
The Permanent Secretary, Lagos State Ministry of Basic Education, Abayomi Abolaji, who was well represented by the Director of Lagos State Comprehensive School Program, Lucy Emike Omoaka, disclosed that the state is currently planning significant to improve the standard of education and literacy level in the society. She then applauded the United Nations Educational, Scientific and Cultural Organization [UNESCO] for dedicating a special day billed for reviewing the act of reading and writing.
Mrs Tinuke Bosun-Okusaga, Executive Director of DoTheDream YDi, took center stage with a magnificent presentation centered on the 7 Habits of Highly Effective People. She encourages the students to function with Principles to make the sky their starting point.
Mr Doyin Ijiwola, the Board member of DoTheDream YDi, shares a beautiful experience of skills and how tech can amplify dreams to create environments that work.
He shared the opportunities available in Digital skills which can boost the E-library project. Four students from the School Presented excellently well on the theme of the year. In marking the literacy day and to encourage the students, Mr Adebusuyi Olutayo Olumadewa donated 100 copies of his book 'We Are The Change' to the students to boost their capacity to be the dream.
He further encouraged the students to dream big, knowing that the sky would be their starting point.